Looking for the best serum for your skincare routine? Check out this list of best Japanese serums for beautiful skin! 
The Japanese cosmetics industry is huge, and the cosmetics brands in Japan spend billions developing the most effective skin care products that work wonders on our skin.
It is no wonder that the industry is booming all over the world. The demand for Japanese skin care products is on the rise; they are trusted by men and women alike, thanks to the brilliant formulations and effective results. 
Our skincare regime could be intensive or quite simple, depending on the skin we have and the care it needs. Some of us only follow the simple rule of C-M-T or Cleansing-Moisturizing-Toning.
However, the others have a more vigorous routine that includes all sorts of skin care products like under-eye gels, spot treatments, essences, face masks, exfoliator and more. 
No matter what your skincare routine is, there is one product you simply cannot skip. It's the serum. And when it comes to such a great skincare product, no one does it better than the Japanese.
Types Of Japanese Serums
How to choose the best Japanese serum?
Now that you know a serum is a crucial skincare product and should not be skipped, it is a matter of finding out how to choose the best serum for your skin. The initial step is to look for serums that suit your skin type. We all have different skin types and tones depending on the places we live in. Certain serums might not be suitable for your skin due to the ingredients in them.
 Hydrating serums are ideal for dry skin as they contain glycerin, hyaluronic acid, and Vitamin C. For oily skin, you should consider choosing a serum that contains salicylic acid and that prevents pore-clogging and acne. Meanwhile, Vitamin C and retinol will suit both dull skin and aging skin.
 The next significant factor you should consider is the brand. It is always best to go for brands that have been clinically tested and suggested by dermatologists and have received positive reviews from customers as well.
You cannot risk your precious skin by using products that are cheaply available on the market. Some unbranded products may contain harmful chemicals such as paraben, mineral oils, and sulfate. These chemicals can do terrifying damages to your skin. 
Japanese skincare brands have obtained fame over the years for incorporating natural ingredients in their products and free from such chemicals. Japanese serums have proven to be gentle on the skin and very effective for their purpose.
Before we get to the list of best Japanese serums let's understand how to use serums.
How To Use Japanese Serums
The first step is cleansing. This helps remove all dirt and impurities from your face. Now, after cleansing, you must apply an alcohol-free toner. You should never skip on your toner. 
When we usually apply our toners, we let it soak into the skin before applying our moisturizer. However, the truth is that wet skin is more permeable than dry skin.
So when you apply your toner, do not let it dry. When your skin is damp, apply a dime-size of serum. It will absorb better into your skin.
What Is The Difference Between a Japanese Serum, Essence, and Ampoule
 The serum is a skincare product that contains active ingredients that are highly concentrated. There are different types of serums for certain skin concerns. 
 Essence is a  product that deeply hydrates your skin which helps other skincare products to be easily absorbed.
 An ampoule is a product that is similar to a serum but is used occasionally.
Serums have an oily texture and it's used to treat skin problems like dark spots and wrinkles.
Essences are used before applying the serum. This is because essence hydrates your skin and opens a pathway to your skin so that other products can be absorbed
Ampoules contain more concentrated active ingredients than serums. Hence they cannot be used regularly. They come in little vials and have a watery texture.
Here's the summary of the best Japanese serums. Choose one based on your skin type or concern:
Top Picks for Best Japanese Serum
Which Is The Best Japanese Serum?
Using the right serum for your skin is extremely important as they concentrated solutions that are formulated to penetrate deep into your skin. I found the Pola wrinkle shot medical serum to be the best Japanese serum of the lot, after having reviewed several Japanese serums. And here's why:
Pola wrinkle shot medical serum is a clinically-formulated serum that contains the company's patented ingredient called NEI-L1 that was a result of 15 years of research in anti-aging solutions. The serum visibly reduces signs of aging like wrinkles and fine lines. The product claims to show visible results within 2-3 weeks of consistent use.
Follow this up with a moisturizer. If you have acne-prone skin though, use a moisturizer specially formulated for acne-prone skin. If you can, keep your moisturizer in the fridge. When you apply the moisturizer cold, it pushes blood away from your face, creating a vacuum effect. So with this, the ingredients in your serum penetrate deeper giving you the desired results. 
Also, make sure that you only use a dime-size amount of serum. We often think that lathering excess serum will give us results fast, however, that is far from the truth. Our skin is like a sponge and it can only hold as much. As a result, whatever cannot be soaked by the skin will simply sit on top of the skin, which is nothing but wastage of a good product.
Haba White Lady Vitamin C Serum 
Best Japanese Serum Suitable For All Skin Types
The Haba Vitamin C Serum is all the rage in Japan and is one of the best Japanese serum. It is a part of the brand's healthy skincare product line, and so contains no parabens, flavors, mineral oils, synthesized tar, colorings, or petrochemical surfactants.
Thanks to the healthy ingredients used in the serum, it does not irritate the skin. It works towards ridding your skin of dryness, dullness, fine lines, age spots, and acne. 
The serum contains bamboo water, clear and natural moisturizer, as well as hyaluronate that helps lock in moisture in the skin. With these ingredients, you will notice a visible difference in your face. Your face will get smoother and softer after regular use. It will improve overall skin tone as well.
The serum also comes with a 6 percent Vitamin C derivative, which works as the anti-aging serum. It offers an intensive focus to make your skin appear younger and more vibrant.
The philosophy behind Haba's healthy product line is to maximize the skin's natural healing power. 
Pros:
Does not irritate the skin
Perfect for dry skin
Delivers Hydration
Leaves smooth and glowing skin
Cons:
Hada Labo Rohto Goku-jun New Hyaluronic Serum 
Best Japanese Serum For Dry Skin
Hada Labo is one of the most popular skincare brands in Japan that has a strong foothold all over the world. It brings to us a range of skincare products that work wonders and help us with our skin woes. 
The Goku-jun Hyaluronic Serum by the brand is yet another product that helps lock in moisture and provide you with that glowing, radiant skin that is soft and smooth. To get the best results, you have to use the product regularly. 
The one thing you need to note is that the serum makes your face very sticky. You will almost feel like your skin has glue on it; it will stick to your fingers.
However, there is nothing to worry about, top it up with a moisturizer to lock in the hydration. It's one of the best Japanese serum and must definitely be a part of your skin care routine!
Pros:
Great moisturizing components
Does not irritate the skin
Great for sensitive skin
Right amount of Vitamin C 
Cons:
Related: Check out the best Japanese skincare brands to get the best Japanese skincare products!
Kikumasamune Sake Rich Moisture Lotion Toner
Best Japanese Serum For Combination Skin
Sake is extremely popular in Japan, and we do see a lot of products with sake added. The Kiku Masamune serum is made from sake, which helps moisturize and tone your skin.
The sake used in the serum is brewed from the finest rice to make sure you only get the best quality. The serum is rich in texture and it spreads evenly on your face. Thanks to the consistency, it penetrates deeper into the skin to make sure you get effective results. 
The serum contains sake, but other than this major ingredient, it also contains 12 kinds of amino acid. It helps keep your face moist and hydrated.
It also contains three kinds of ceramides, two kinds of Vitamin C derivatives, as well as moisturizing ingredients.
It tones your skin to give it a smooth texture. After applying, you will notice that your skin has become firmer. I mean, how can this not be one of the best Japanese serums!
Pros:
Hydrated the skin thoroughly 
Great for all types of skin
No Alcohol included
Good quantity
Cons:
Not ideal for acne prone skin
Related: Here are some affordable and awesome Japanese drugstore products for you!
Shiseido HAKU Melano Focus Whitening Beauty Serum
Best Japanese Serum For Dark Spots
Shiseido is one of the top Japanese beauty brands and for a good reason. Shiseido's skincare range is all the rage not only in Japan but all over the world.
If you have dark spots and pigmentation then Shiseido Haku melano foucs whitening beauty serum is the best Japanese serum for you!
This Japanese serum was developed after over 100 years of skin research in pigmented spot prevention. It works to suppress the melanin production under the skin to promote dewy and clear skin!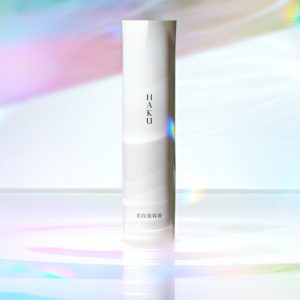 Pros:
Reduces pigmentation
Gives dewy skin
Reduces dark spots
Cons:
Related: Keep those fine lines and wrinkles at bay with these anti-aging products from top Japanese skin care brands!
UNO Skin Serum For Men
Best Japanese Serum For Men
Most of us still think that a skincare regime is for women, but let's face it: it's not true. Men need to take care of their skin as well.
They have a skincare routine too that helps them keep their skin concerns at bay. A skincare routine cannot be complete without a serum, even for men.
The UNO skin serum for men is a perfect choice and is the best Japanese serum for men in the market. It contains the super skin-loving ingredient – the wonderful hyaluronic acid.
The acid locks in moisture and makes the skin look hydrated and glowy. Apart from this, the serum also helps shrink pores, soothes and nourishes the skin with its moisturizing properties. 
The serum contains 100 percent natural water collected from the foot of Mount Fuji. It will make your skin feel softer, smoother, and more radiant. You will also see a noticeable difference in your pores. 
Pros:
Leaves Skin Hydrated and Smooth
Good for Normal to Dry skin
Moistures and lessens white flakes
Cons:
SK-II RNA New Age Essence
Best Japanese Serum For Antiaging
SK-II is one of the most luxurious skincare brands and this serum is priced accordingly as well. A bit on the expensive side, this RNA serum by SK-II is worth every dollar!
It's lightweight and works towards improving your skin texture to make it smooth and plump. It adds moisture to the skin and also reduces wrinkles. 
POLA Wrinkle Shot Medical Serum 
Best Japanese Serum For Mature Skin 
Wrinkle shot medical serum by Pola is a clinically-formulated serum that effectively reduces wrinkles and fine lines within 2-3 weeks of regular use.
The company uses its patent ingredient NEI-L1, which was developed after 15 years of research in anti-aging ingredients. 
Pros:
Gives whitening effect
Good ingredients
Does not cause allergy
Cons:
Elixir Enriched Serum
Best Japanese Serum To Improve Skin Elasticity 
This Japanese serum is lightweight and formulated with Satsuma Mandarin Peel Extract, Mangosteen Bark Extract, Inositol, Soapberry Extract, Turmeric Extract.
It doesn't feel sticky on application. It intensely hydrates your skin and leaves a subtle refreshing fragrance. The serum works to improve skin elasticity and texture.
Pros:
Has Non-sticky texture
Great transparent texture
Holds the skin to have firmness and moisture
SHISEIDO Ultimune Power Infusing Concentrate N
Best Japanese Serum For Wrinkles
The serum is packed with skin hydrating and moisturizing ingredients. It deeply moisturizes skin and leaves you feeling fresh. The formula is a bit thicker than most serums but doesn't feel too sticky after application. The serum helps your skin retain moisture all day. It has a subtle refreshing fragrance. 
Pros:
Get reduces signs of aging
Gives hydration
Enhances radiance in 3 days
Lightweight serum
Dr. Ci: Labo Super White 377VC
Best Japanese Serum For Skin Brightening
This Japanese serum does a pretty good job of hydrating your skin. The texture is more cream like so it's easy to apply on specific areas that need to be taken care of. The bottle has a small window where you can see how much of the product you still have left!
Pros:
Lightens sun damage marks
Serum is very moisturizing. 
Very gentle on the skin. 
Gives whitening effect
Cons:
Takes a long time to show effects
SK-II Genoptics Spot Essence
Best Japanese Serum For Mature Skin
What I absolutely love about this Japanese serum is the sleek packaging. And when it comes to the product it definitely won't disappoint you either! The hydration levels on this Japanese serum is great! It's formulated with Nicotinic acid amide W, D-pantothenyl alcohol.
Because of the alcohol content, it's not the best solution for dry skin but works great for other skin types. It prevents spots and makes your skin real smooth.
It's easy to apply and spreads well too. The serum gets absorbed into the skin very well and pretty quickly! 
Check out this best Japanese serum below!
Pros:
Removes the spots
Helps the skin hydrating
Good absorption quality
Cons:
Has alcohol as an ingredient
Albion Upsurge Solution
Best Japanese Serum For Rough Skin
The next best Japanese serum on this list is by Albion, a pretty popular Japanese skincare brand. It has a really relaxing elegant scent that will give you luxurious spa-feels.
Formulated with royal jelly extract, it hydrates your skin and prevents spots, rough skin, and fine lines. The serum helps your skin retain moisture through the day.
The serum is packed with moisturizing ingredients that soothe irritation and reduce pigmentation. Give this best Japanese serum a try! Check it out!
MUJI Aging Care Moisturizing Essence
Best Japanese Serum For Dry Skin
Here's another best Japanese serum from the very popular Japanese brand MUJI. This serum is meant to make your skin firmer and preserve moisture.
It's a good option for dry skin and to reduce signs of aging. This Japanese serum for face uses natural water from Japan's Kamaishi prefecture. The serum is infused with nourishing botanical ingredients like Arnica, Pomegranate, Raspberry, and rose.
The serum helps moisturize and tighten skin and also improve skin elasticity. It also contains water soluble collagen. It's free of synthetic fragrance, colorants, and mineral oils.
Japanese Serums: FAQs
Which is the best serum in Japan?
Our experts tested and rated the following Japanese serums as the best Japanese serums: 
– Haba White Lady Vitamin C Serum  – All Skin Types 
– Hada Labo Rohto Goku-jun New Hyaluronic Serum – Dry Skin 
– Kikumasamune Sake Rich Moisture Lotion Toner – Combination Skin 
– Shiseido HAKU Melano Focus Whitening Beauty Serum – Dark Spots 
– UNO Skin Serum For Men 
– SK-II RNA New Age Essence – Aging skin
– POLA Wrinkle Shot Medical Serum – Mature Skin  
What is a serum?
A serum is a skincare product that contains active ingredients to treat skin problems like wrinkles, reduce blemishes, and also for skin brightening.
When to use face serum?
It's recommended to apply serum twice a day. Serum is applied after toning and cleansing and before moisturizing. Apply a sunscreen if you're stepping to protect the benefits the serum delivers to your skin.
How to apply serum?
Use 2 fingertips to apply the serum. Gently pat it on and smoothen it. You don't have to massage it in too much, very lightly just enough to smoothen and spread it. Let the serum absorb into your skin on its own. Wait for 3-5 minutes and then apply a moisturizer according to your skin type.
Do you use serum or moisturizer first?
You first apply serum and then layer it on with a moisturizer. Serum is applied to deliver concentrated active ingredients deep into your skin. When you apply a moisturizer over it, the moisturizer ensures that it seals it in for maximum benefits!
When should I start using serum?
The best age to start using a serum is when you're in your late 20s and early 30s. First signs of aging are usually observed during late 20s. It's best to include a face serum according to your skin type when you hit 27 or 28 years of age. Face serum will slow down the aging process and give you beautiful, youthful, and radiant skin.
When to use a serum?
A serum can be used right after cleansing your face. It is best to apply serum regularly in the mornings and evenings.
Which is the best Japanese serum for oily skin?
With its unique water-soluble formula, the DHC Deep Cleansing Oil thoroughly cleanses your skin without leaving a film and can be washed off. It contains eight gentle ingredients that make your skin look and feel young. It nourishes and hydrates it, making it look and feel younger. Rosemary leaf oil soothes and tones the skin, while olive fruit oil reduces free radicals and prevents pores from clogging up. Vitamin E works on reducing premature aging signs. By dissolving makeup, removing excess oils, sunscreen, and other impurities, and hydrating dry skin, this cleansing oil effectively removes makeup and leaves no residue.
Which is the best Japanese serum for dry skin?
Hada Labo Rohto Goku-jun New Hyaluronic Serum truly provides Deep Hydration With A High Concentration Of Super Hyaluronic Acid. It Intensely Boosts And Optimizes Skin's Hydration Level. Skin Appears Visibly Smooth, Luminous And Healthy. Skin Ph Balanced And Low Irritation. Free Of Fragrances, Mineral Oil, Alcohol And Colorant.
Which is the best Japanese serum for sensitive skin?
Minon Amino Moist Charge Milk: When applied to the face, it feels halfway between a serum and lotion. It does not feel greasy or oily at all. Makes the face feel smooth and vibrant. This is slightly thicker than a lotion, but definitely not a cream–it spreads nicely and it's strong point for me is that it forms a barrier against moisture loss that you can tell is there, but it never makes my skin feel heavy or greasy-a real concern for me as I am rosacea prone, but this is lovely & gentle. Makeup goes on easily over this.
Enhance your skincare regime with the best Japanese serums!
These were some of the best Japanese serums that will zap away your skin concerns to give you a glowing, smooth skin that feels soft to touch. Add any of these best Japanese serums to your skincare routine to see effective results. 
Using a serum regularly can give your skin a firmer and smoother texture. You will also notice that your pores have shrunk and there is an increase in moisture levels. However, serums only moisturize to a certain extent. To ensure your skin does not feel dehydrated, always follow a serum with a moisturizer. 
You can use a serum depending on your skincare routine. You can apply it in the morning, at night, or both. However, if you are in the habit of using a Retinoid in your nighttime routine, you may not want to use a serum in conjunction. The combination of these two products may lead to irritation. 
Also, it is important to skip serums if you have skin conditions like eczema or rosacea. This is so because using serums can aggravate the condition. 
The most important thing to note? Do not overuse the serum thinking it will reap you more benefits. 
Also Read:
Erika is the main author of the website. She is obsessed with Japanese products and always looks for an opportunity to share her love for Japanese products with everybody around her! She combined her love for writing, research and testing products to create Best Japanese Products. When she's not reviewing latest Japanese products, you'll find her pampering her cats. Erika is the definition of 'The Crazy Cat Lady'.