Are you looking for the best Japanese rice cooker? Your search ends here as I have a curated list of the same- Best Japanese rice cooker.
I love rice. If my meals do not contain rice, I never feel fully satisfied or satiated. Do you feel me? I cannot get over rice ever. It really is one of my most staple foods. 
Why? It's because it is one of the most versatile food items ever that can be paired with almost anything. Just use rice and you are done.
Related: Check out these best Japanese rice crackers, you'll love it!
Rice is also a staple food item in Japan, as you may already know and best Japanese rice cooker are needed to make it!
It is something that is used everywhere. And if you ever visit Japan, you will realize that cooking rice is considered to be an art by the Japanese people. They are always trying to find the best way to cook rice is cooking in the best rice cooker.
Related: Check out these best Japanese bath towels that so soft!
 No matter which appliance store you decide to visit in Japan, there is one thing that you will notice. You will find a huge variety of the best Japanese rice cookers that are all pretty awesome. They also make your job of cooking excellent rice very easy. 
Best Japanese Rice Cooker: Summary
The Japanese way of cooking rice is also quite different. It is fancier than anywhere else in the world. Japanese are known to use a special absorption technique that makes rice fluffy, light, and slightly sticky. So, you really need an excellent rice cooker to achieve this.
Today, for all you rice lovers, I have brought to you some of the best Japanese rice cooker that you can check out.
Related: Check out the best Japanese kitchen appliances that you will need!
Guide to Buying a Japanese Rice Cooker
Volume of Rice Cooker: This suggests the amount of rice that can be cooked in one cycle. 5.5 Cups cooker is ideal for a small family while 10 cup size feeds 8-10 members.
The Quantity of Bowl: Usually available in stainless steel or aluminium. The former is a little expensive and of great quality than the latter. Aluminium heats faster than stainless steel but usually chips off.
Machine Logic: Rice cookers have a lot of features than just displaying minutes. It has a lot of additional features and controls like:
•Long-simmered cooking option
•Keep-warn option
•Digital display windows
•Scheduled cooking and delay-start options
•Remaining time display
•Real time adjustment of temperature and humidity options
•Quick cook options
Heating Method: Buy the best Japanese rice cooker that has an induction heating method because coiled ones are cheap but really cause uneven heating. The induction heating method ensures that the rice is properly cooked.
Related: Having a knife sharpener handy in your kitchen will help you cut veggies or meat precisely and efficiently. Check out these Japanese knife sharpeners here!
Brand: It's very important to buy a nice and branded best Japanese rice cooker as they last for a longer time than buying regular brand cookers that is short-lived.
Price: It will be smart to invest a good amount of money if you use rice cooker regularly and get something that has additional features. Otherwise, you can get it at regular prices.
Easy to Clean: If the rice cooker isn't cleaned properly, it will be difficult for you to cook after a couple of times. Check out the best Japanese rice cooker that has an easy cleaning process.
Related: Check out these highly efficient Japanese washing machines!
Top Japanese Rice Cooker
Midea Smart Multi-Cooker
This rice cooker can come out as the best purchase for you! It is a slow rice cooker that can be used for multi-purpose usage and is very easy to use. On the top, you get featured buttons and an LED light that keeps you informed about what is happening.
 The capacity of this best Japanese rice cooker is 10 cups which is perfect for a big family. Other than just cooking rice, it can also be used to steam cook vegetables and beans perfectly. Washing it is not a big deal, as the plain water is good to go. 
In this purchase, you get a measuring cup, spoons, and a container with a lid. Get this one for your kitchen and minimize the work. One of the best Japanese rice cooker for its properties.
Key Features:
Slow and multi-functional rice cooker
Ten cup capacity
Easy to clean
Removable lid and comes with spatula and cup
Related: Check out the best Japanese water boilers to regularly sip you water warm!
Tiger JNP Rice Cooker and Warmer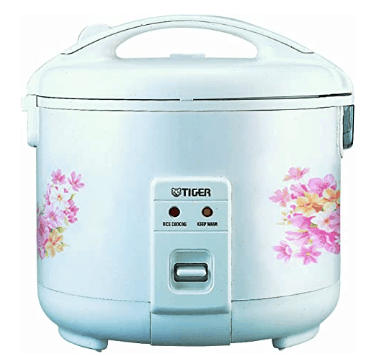 Here is another new technology for cooking rice at once. Rather than using the container and water, get this rice cooker for effortless cooking. The inner base of the cooker is non-stick in nature which also makes the cleaning process easier and better.  This isn't like the traditional rice cooker
You can move it here and there as the cord is detachable. One of the best advantages of this cooker is keeping the food warm inside for up to 12 hours. Undoubtedly, the best Japanese rice cooker for its fancy features.
 This keeps the rice moist and soft for a long time and you can enjoy eating any time of the day without making a mess. Regarding its capacity, it is versatile and can be measured with the help of a measuring cup provided.
Key Features:
Non-stick inner base
Detachable parts for convenient usage
Keeps the rice warm for a long time
Good capacity cooker
Related: Check out the best Japanese hair dryers for damage-free hair-drying!
Cuckoo Rice Cooker and Warmer with LCD Display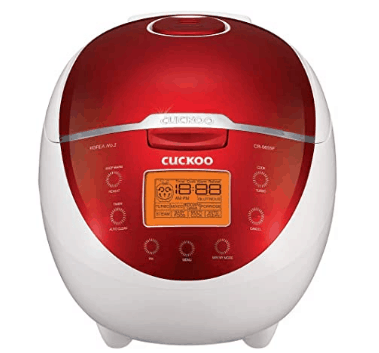 Get this electric cuckoo rice cooker for a small family as it is just an appropriate one with all the amazing features. It is multi-functional as you can cook things like porridge, rice, brown rice, gaba rice and steam various vegetables.
 On the rice cooker, there are many options like timer, mode, keep warm, etc. The capacity is sufficient for a medium family and is a great investment for your kitchen. 
It is an electric rice cooker and that is why updated technology has been used to provide fast and perfect cooking.
Other than that, it has a Teflon coating that is known to keep the product durable and safe. The best Japanese rice cooker for its capacity.
Key Features:
Rice cooker used for multiple things
Non-stick coating keeps it durable
Sufficient for a small family
Perfect and fast cooking technology
Related: Buy the best kitchen appliances for your already-set kitchen.
T-Fal Rice and Multicooker with Automatic Functions and Delayed Timer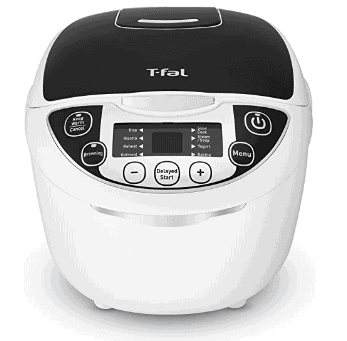 This rice cooker is one of the famous cookers of Japan and is highly recommended to all. It has an amazing new technology that adjusts the cooking for perfection. 
In this rice cooker, you get options that you can choose for whatever you are cooking such as oatmeal, reheat, etc. When you cook rice in this cooker, it stays warm for a longer time without affecting the taste and aroma of the food. 
The inner pots have ceramic layer coating that helps in keeping the quality intact and also have a removable lid and container for easy cleaning.
Also, it is dishwasher safe and an amazing investment overall. One of the best Japanese rice cooker for its capacity.
Key Features:
Modern technology cooker
Ceramic coating and non-stick base
Easy to clean as well as dishwasher safe
Keeps the rice warm for hours
Related: Want a Nintendo Switch? Check out where to buy Nintendo Switch in Japan!
Zojirushi Micom Rice Cooker and Warmer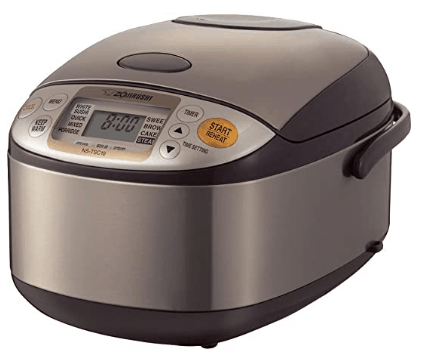 If you are looking for a multi-functional rice cooker then you are in the right place! Have you heard of a rice cooker baking cake for you? Well, here is the one that belongs to the category of best zojirushi rice cooker. 
This one is in a stainless steel outer body that looks classy and has a non-stick interior base that makes the dispensing easier. Even in terms of cleaning, it is convenient. One of the best Japanese rice cooker, must say.
You get the removable and easily washable container and a steaming lid of light material. Other than that the retractable cord helps to take it anywhere you want. This one is just a perfect deal for you!
Key Features:
Rice cooker with multiple features
Easy to clean
Durable material lasts long
Non-stick interior
Related: Check out the best Japanese camera for a picture-perfect!
Aroma Housewares Digital Cool-Touch Rice Cooker and Steamer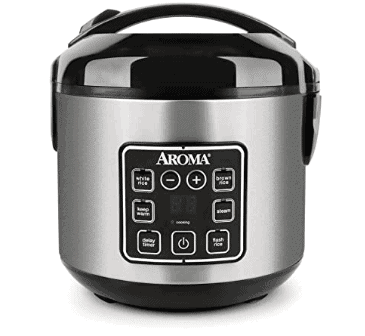 Cooking rice is going to be an absolutely fun moment from now on. Get this rice cooker that is going to prepare full meals for you while using amazing techniques and interesting features.
 You can cook rice, steam vegetables, and even make a cake that stays nicely moist and doesn't lose its nutritional values and genuine taste. It's the best Japanese rice cooker for capacity and functions.
You can put eight cups of product in this which is quite sufficient for a small family. It is easy to use this rice cooker with digital functions and keeps the inside warm for quite a good amount of time.
Key Features:
Good quality material
Can be used for different things
Enough capacity for a small family
Easy to use functions
Related: Check out these best Japanese Bento boxes to pack your lunch to work, study or picnic!
Hamilton Beach Digital Programmable Rice Cooker and Food Steamer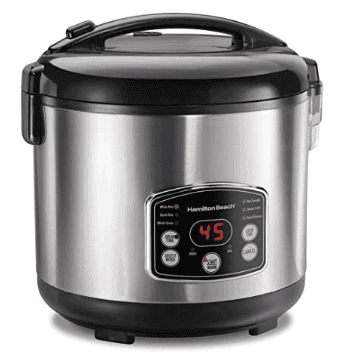 Invest in this best Japanese rice cooker right away and minimize your work at once. This rice cooker can help you make the whole meal at once without wasting your time and energy and making your kitchen a mess.
 You get two in one rice rinser/basket which can be used for steaming rice and vegetables at the same time. You can use this for cooking soups and other amazing dishes with the help of this rice cooker. 
There are features for different types of rice such as white rice, quick rice, whole grain, etc. As per which you can choose the program and work upon it. The non-stick coating just keeps it away from sticking and burning when extremely hot.
Key Features:
Two in one container
Used for various other dishes
The non-stick interior base for easy cleaning
Smart programming functions
Related: Check out these best Japanese thermal boxes to keep your food warm for a longer time!
Toshiba One-Touch Cooking Rice Cooker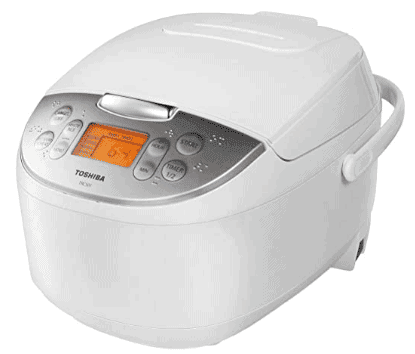 Here is another best Japanese rice cooker made with innovative Japanese technology to assure perfect cooking.
It cooks the rice even when the timer stops as the non-stick base keeps the heat intact and keeps the rice warm for a long time without affecting the texture. 
It has various preheating programs that help in cooking different types of rice. Also, this doesn't make any type of mess at all. With all these amazing features, it also has the capability to keep the rice warm for 24 hours.
 This can be a  great deal for your kitchen. If you are planning to gift something to your mom, get it right away. This is one of the best Japanese rice cooker.
Key Features:
Innovative technology cooker
Preheating program
Keeps the product warm and moist for a long time
Mess-free cooking
Related: Check out these best Japanese utility knives for a good chop-chop!
Which is the best Japanese rice cooker?
I have been using a rice cooker for a very long time because I love rice. I found Tiger JNP Rice Cooker and Warmer to be the best Japanese rice cooker in terms of easy usage, functioning features, technology and capacity.
Tiger JNP Rice Cooker and Warmer has an inner base of non-stick cookware and an easy cleaning process. It has detachable parts for convenient usage and keeps the rice warm for a long time (up to 12 hours). Tine JNP rice cooker and warmer has a good capacity cooker of 5.5 cups, ideal for a small family.
Related: Check out these best Japanese laundry detergents that smells amazing and cleans the clothes perfectly!
The right way to cook rice!
I love using electric rice cookers as they make my rice super fluffy and soft. It just adds a delicious flavour to the rice, which makes my eating experience so much better. Hope my list of best Japan rice cooker helped you.
Related: Check out these best Japanese knife sharpeners to keep your knife sharp and shiny!
If you have never used a rice cooker in your life, you need to get one today. These were some of the best ones that you can try your hands on. So, what are you waiting for? Get these best Japanese rice cooker today!
Also Read:
Erika is the main author of the website. She is obsessed with Japanese products and always looks for an opportunity to share her love for Japanese products with everybody around her! She combined her love for writing, research and testing products to create Best Japanese Products. When she's not reviewing latest Japanese products, you'll find her pampering her cats. Erika is the definition of 'The Crazy Cat Lady'.
Tiger JNP Rice Cooker and Warmer
Check out the best Japanese rice cookers if you love rice! Tiger JNP is the best Japanese rice cooker for its fancy features, detachable parts for easy cleaning and a lot more. Read further to know more in details!
Product SKU: 305853
Product Brand: Tiger
Product Currency: USD
Product Price: 129.89
Price Valid Until: 2021
Product In-Stock: InStock